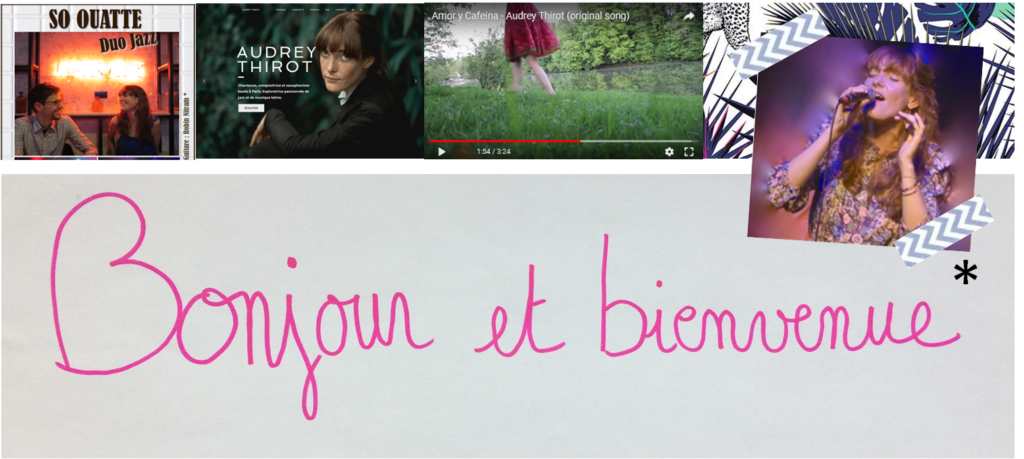 MARCH 2018
"Yesterday I was dreaming of princesses and knights in shining armor. Today I have found something greater than my dream. Love has awoken my sleeping life. I have found life and it is to meet her that I am leaving, it is for her that I will fight and it is her name that I will serve".
Christian Bobin, Le Très-Bas
Hello, and welcome to this first edition of my monthly newsletter!
The month of March charms us with spring and its crown of birds chants and newborn flowers.
It also brings me its share of steps forward that I am very happy to share with you in this letter.
Next concerts of the jazz duet "So Ouatte" on March 9th and 25th.
Who? Robin Nitram on the guitar and myself on voice.
What? Original compositions, and jazz standards interpreted our own way, that leaves a lot of space for improvisation.
Where and when?
A brand new youtube channel!
Since last September, I have been building a new youtube channel, under my name. I no longer wanted to go by the nickname "Abri Maar", that some of you may have known me by. It was time for me to share my music under my real name.
Therefore I had to start the youtube adventure all over again. So I went through my old videos and tried to upload the ones that would best present the key moments of my musical journey, but also the dear friends that have been walking down this road with me.
You will find on this channel a bit of the musical style that I am currently exploring – jazz – but also some latin music, my first love. With of course a lot of singing, a little saxophone, a little guitar, covers, original songs, travels and guests.
It is just a start; I am now working on new creations that will allow you to discover more of my artistic world.
Don't hesitate to visit it, and to subscribe if you want to join me in this beautiful adventure!
Also, I selected for you my 2 crushes of the channel, the 2 videos I wanted to share with you the most. In the short texts below, I tell you a little bit about the story behind each of them.
This video presents a fragment of the musical universe I have been navigating lately, in Paris.
With some amazing companions, we have been walking around the city of lights, in and out clubs, at gigs and "jam sessions", trying to get a grasp of this versatile, profound, lively and improvised language that is called "JAZZ".
The video also celebrates a talented and beautiful composer, João Gilberto, and his wonderful tune "Doralice".
About 10 years ago, I was returning from a long journey in South America, and I wrote this song.
It talks about these times in life when we feel the need to step away from what appears to be our personal path, just for a moment, while making the secret vow to come back to it someday.
I wanted to share this song because I thought it might resonate in some of you, as it did resonate in me these past years. It contains a message of hope that helped me find the strength to finally come back to my personal calling -arts and music – with no regrets though. All the wandering nurtured me, and I realise now that it was also part of my journey.
P.S.: full lyrics available in the youtube video description.
An article in the magazine "Management".
Who would have guessed?
After working in management for almost 10 years, I changed carreer to become a full-time artist. Isn't it quite ironic that this is when the magazine… "Management"… decided to write an article about me?
The topic of the article: following one's intuition, creating one's own carrer and finding balance at work.
Thanks to Fabien Trécourt, who chose to tell my story, and Stéphane Rémael for his beautiful pictures.
A new musical aventure with "Ptäh".
PTÄH is a musical collective from Aquitaine, France, that performs covers of the French band Magma (progressive rock from the 70's).
I just joined the collective to sing with them the long musical pieces of Magma such as K.A. (part 1), Köhntarkosz, or M.D.K.
And the best part is that we are all going to Goos, in the South of France, for a 4-days residence in April (more details in the "shows" section) 🙂
Discover the band by clicking on the picture below!

There would be so many more beautiful things to share, but I don't want to steal more of your time.